Management Reporting and Business Intelligence
Invoicing
Sales Ledger
Credit Control
HR Services
Payroll Management
Financial Statements
Corporate Compliance
Expense Management and Payable Services
To appraise performance and formulate future strategic planning higher management periodically require financial information and future projections in a suitable formats which help them to draw their future strategy and take corrective action in case of expectation gap.
We provide to every client access of online 'Business Intelligence System' which leverage the structure of the chart of accounts, for example dimension structures can be automatically created based on business unit hierarchies, level of detail or account category codes. Time-based functions specifically allow for YTD, rolling average and year on year analysis.
Our Services
Our management reporting services broadly encompass services like;
Preparation of periodic management accounts
Compilation of group's management reporting packs
Preparation of budgets/forecast
Drawing cashflow projections
Documentation of business plans
Advisory on one-off business transactions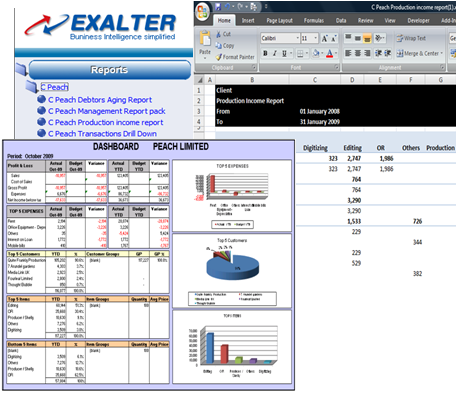 Overview
Incorrect, lost or late invoices can give you a low score on the final customer satisfaction metric. Moreover, issues such as volume of invoices processed each month, time taken to process an invoice, people involved in invoice making etc. can adversely impact your bottom-line if there are no performance measure systems in place. Exalter's expertise in effective and economical invoice processing service helps you save time, resources and cost.
Services
Every business is unique hence involves unique invoicing process. Regardless you are in service, retail or manufacturing business, we have the expertise to deal with your invoicing process.
Our services normally include followings and highly flexible to address your business specific requirements:

Preparation of periodic customers invoices as per respective service agreement, delivery note etc.
Booking of revenue in general ledger.
Print and dispatch or e-Bill customers.
Issuance of credit notes.
Follow-ups for undelivered invoices.
Document capture and data entry of proof of delivery.
Matching and linking of invoices, sales orders, supporting documents etc.
Exception processing for missing documents and dispute resolution.
Benefits
Cost savings and improved efficiency from day 1
Speedier VAT recovery
Undelivered invoices are properly documented and followed.
Greater accuracy in reporting and forecasting
Full audit trail
Transparency over invoicing process
We enable you to accurately recognize revenue and provide the track of receivables. Our services involves recording customer orders, calculating taxes, creating invoices, processing adjustments, matching receipts against respective receivables, preparing overview reports and follow-up of outstanding debts.
Our Services
Exalter provides periodic reporting and statistics on revenue, cash flow and accounts receivable—that includes everything from reconciliation of cash and credit card transactions and reconciliation of receipts and disbursement with bank accounts. All of this information will be mapped from the sales system into appropriate general ledger accounts. More timely and more accurate accounting information will enable you for more strategic financial planning.
Overview
Good credit control system is an essential part of any business' accounting procedures. Maintaining consistent cash flow, avoiding bad debt and minimising late payments are essential for survival.
Our Services
Dedicated team:
A dedicated team will deal with your accounts, taking time to understand your business and building good relations with your customers. We chase in Exalter at your company name as per your instructions so you can decide how 'soft' or 'firm' our approach is with each client or you can rely on our proven techniques.
Data Connectivity:
Exalter uses latest IT tools and techniques to provide you best of market services. At the start of project we connect our robust CRM and query engine remotely with your accounting system which enable us to pull full customers live record in specified meaningful format. We act as a member of your staff doing all of the functions a sales ledger assistant would provide if they were in house but at a fraction of the cost. As the link between both systems is live so we always see the latest position of your customers.
Chasing customers:
Instead of waiting customers to approach their due date we send a friendly reminders to customers, this give us extra comfort that:
Correctness of invoice is re-confirmed by customer before debt's due date approach, hence no dispute after credit period. Incase customer identifies any mismatch we resolve the differences between you and your customers in timely manner.
If customers details e.g.; address has been changed since you have provided the services we will able to correct this, results customers database remains updated and reduces chances of sending reminders on wrong address etc.
For customers who haven't paid soon after their credit term end we will do a continuous chase by sending reminders by post, through email or make polite telephone calls and oblige them to pay as soon as possible. For long disputed balances we prepare documentation for enforcement agencies.
Documentation:
We maintain robust audit trail of all communications with your customers as well as investigation with internal staff so that all customers queries are quickly and efficiently resolved and readily available for future references. Also we maintain each customer's file in electronic form which normally include contracts, invoices, emails, reminders etc, just a click of button away so all customers queries are spontaneously resolved without going back to and searching in Company's record room. Also if customer request a copy any of their document we are able to email them...... again just by click of button. We maintain robust audit trail of all communications with your customers as well as investigation with internal staff so that all customers queries are quickly and efficiently resolved and readily available for future references. Also we maintain each customer's file in electronic form which normally include contracts, invoices, emails, reminders etc, just a click of button away so all customers queries are spontaneously resolved without going back to and searching in Company's record room. Also if customer request a copy any of their document we are able to email them...... again just by click of button.
Benefits of Our Services
Maintain Days Sales outstanding within credit limit
Reduce existing credit control costs by up to 60%
Improve Customer relationships and Company's image
Reduce disputes and Customer related phone calls, leads quick recovery
Improve cash inflow cycle, results no or less overdraft
Our services can be started as little as 2 days after contract with us
Payments still come directly to you so that there is no risk of delay or embezzlement in cleared funds.
We know that HR issues are considerably time consuming, and with seemingly never ending changes to employment law it can lead to more than a few headaches. Our approach is pragmatic - we understand that our clients need efficient and compliant HR procedures appropriate to their stage of development.
Our services include:
An audit of existing employment contracts and handbook
Recommendations of HR policies and procedures
Development of staff handbook
Production of contract of employment templates
Induction of new staff and management
Administration of employee benefits
Administration of employee holiday
Management of sickness and attendance records
Liaison with payroll on changes to benefits and salaries
Appraisal administration
Maintenance of an employee support line - your HR department
Advise on staff performance issues
Support managers on dealing with disciplinary procedures, appeals, hearings and grievances
We perform payroll calculations, provide HR information services and information technology functions, process checks and deposit slips, perform journal entries, generate summaries and reports, make tax and Social Security (or other regulatory) payments, and perform time and attendance administration. As a result, your organization benefits from increased data accuracy and timeliness of reporting without expending the effort to maintain compliance with laws and regulations.
We understand the technical and legal requirements involved in accommodating different geographies. Our infrastructure inspires added confidence that your payroll activities will always be delivered – even in the face of disasters. Our strategy, innovation and client focus make Exalter a logical choice for driving transformation in your business.
Our Services
End-to-end Payroll Administration
Source to Gross Processing
Gross to Net Calculations
Complex payment structures, e.g. commissions, bonuses, hourly rates, etc.
Reconciliation and GL Posting
Tax Filing and Reporting
Audit Administration
Fulfillment Services, including imaging, printing and distribution
Year End Processing
Online services
In the present business environment companies are establishing their presence through out the world to explore new markets. Leading to incorporation of legal entities in respective countries and hence require to prepare financial statements under the accounting standards applicable in the country.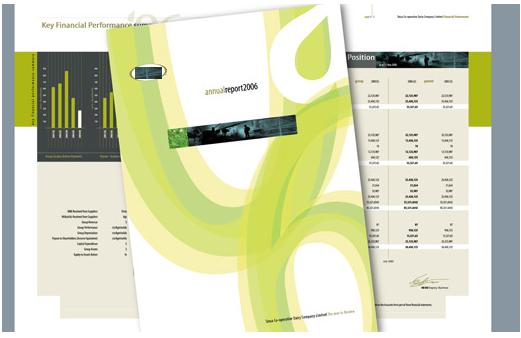 These financial statements not only require to prepare under respective accounting standards but also need to comply with the applicable corporate laws. Multinational companies normally prefer to maintain their ledger in accordance with home country accounting standards and to produce statutory financial statements a comprehensive GAAP conversion exercise is performed to respective country statutory financial statements.
Our Services
Exalter has established a knowledge bank of all major GAAPs and corporate laws along with experience of drafting of financial statement under all accounting standards and corporate laws.
Our services comprise:
Transformation of trial balance from home country GAAP to reporting country GAAP
Drafting of balance sheet, profit & loss account and cashflow in accordance with reporting country accounting framework
Report disclosures in the financial statements required by reporting country accounting standards and corporate laws
And at more enhanced level:
Prepare working papers for statutory audit
Financial statements audited by statutory auditors
Submission of audited financial statements to authorities
Exalter assists with statutory and regulatory compliance with all aspects of company administration. We offer services in a wide range of areas including:
Advice on best practices and corporate governance
Corporate restructurings
Convening, facilitating and attending directors' and shareholders' meetings and preparing chairman's scripts and minutes thereof
Alteration of memoranda and articles of association, changes in directors, secretary or auditors, changes of corporate name, transfers of shares, new issues of shares, rights and bonus issues, repurchase of shares, administration of share option schemes, etc.
Provision of registered office/correspondence address, resident secretary, independent directors, nominee shareholders, authorized representatives, escrow agents, services of process agents, etc.
Maintenance and advice on the proper maintenance of statutory registers and records
Our Expenses and Payables Management Solution makes it easy for you control your expenses and pay your invoices. Invoices can be directly routed to us to be scanned, indexed, referenced and archieved. If your accounts payable process includes a purchase order system, invoices are automatically matched to the purchase orders and receiving records. All unmatched invoices are automatically routed for exception processing. All approval activities and invoices are stored electronically for easy access, and to provide a secure electronic audit trail.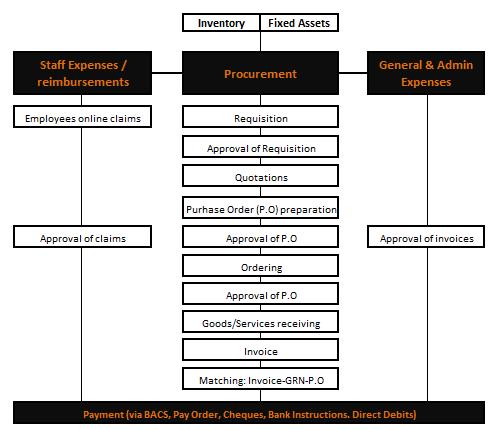 We covers full payables process, from requisition to payments. Our system has capability to be integrated with all major banks e.g; Barclays, HSBC, Loyds etc.
Our services
Scanning, Indexing & Archiving of Invoices
3-Way Match Merge of Purchase Orders, Receiving Reports and Invoices
Exception Processing for unmatched Invoices
Routing for Approval and General Ledger Coding of non-Purchased Order
Correspondence with vendors
Processing of payments by BACS/Cheques/Direct Debit
Benefits
Better managed Days Payable Outstanding
Reduce processing costs by up to 60%
Improve financial control and compliance
Easily accessible audit trail
Rapid Implementation
How we create difference?
Prior to the implementation of any solution or providing service to our client we perform free of cost SCOPING STUDY. The purpose of scoping study is to set out requirements more formally. Exalter will deliver a formal presentation and a report that accurately describe your requirement, our solution and our quote. You are open to use this study and obtain quotes from other service providers. Only once you're satisfied and decide to go with Exalter a formal contract will be signed.
More information……

How may we help
you?